Something New for You and
Something New for Us
A lot has happened recently.   A year has ended, we've celebrated the holidays, and now it's a new year and a fresh start. Here at Innerchoice Publishing we're starting something fresh and new too – a regular blog post designed to provide information on Social and Emotional Learning resources, as well as free activities, Sharing Circle lessons, and discounts on select books. The recent explosion of interest in SEL is steering education into ever deeper, richer and more challenging waters. We at Innerchoice Publishing are committed to helping you respond to these opportunities by offering outstanding Social and Emotional Learning materials for educators K-12 and beyond.
In our first post what better topic to address than stress, something that impacts the lives, and learning, of everyone – children, teens and adults. So, here's off to a good year with three strategies to help your students (and you, too) manage stress a bit better.
Two great books to help you AND your students.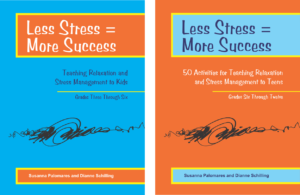 Stress is part of every student's life. An argument with a friend, moving to a new neighborhood, a family breakup, tests, grades, pressure from parents—the parade starts early and never stops. However, contrary to popular belief, stress doesn't come from the outside. The report card, the test, and the divorce are the stressors. The stress itself is in the person's response to those incidents. Stressors are the daily events that challenge an individual to adapt. Stress is the person's response as he or she attempts to make the adjustment, which is why the manifestations of stress are so variable from person to person.
Students benefit from some stress. Writing a report, preparing for an exam, rehearsing for a performance—all demand the stimulation of positive stress, which can help a student perform at his or her best. But stress can also be damaging. It can turn into distress. It can eat away at a student and consume so much energy that performance declines. Stress in the right proportions is a life enhancer. Excessive, prolonged stress is a life destroyer.
You will never eliminate stress from your classroom or counseling practice, nor should you. Stress management doesn't mean getting rid of all stress. It means helping students understand the stress response, identify individual and collective stressors, and learn and practice effective strategies for reducing stress and minimizing its destructive consequences. That in a nutshell is the purpose of both Less Stress = More Success for Kids and Less Stress = More Success for Teens. To learn more just click on the title.
When you use the lessons in these books you'll be providing your students with a solid foundation of relaxation and coping skills. These engaging activities help students to understand the effects of stress on the brain and body, take steps to de-stress the learning environment, identify sources of stress, practice breathing and relaxation exercises, adopt habits that promote successful learning, understand the effects of nutrition and exercise on stress, and learn to more effectively manage anger and worry.
With a Less Stress= More Success activity guide you'll have 50 easy to use activities that provide your students with a broad range of stress management and relaxation experiences. Chose one of these books to help your students to manage their stress and find more success.
To get started here is an activity to use with your students right now—
Just click HERE to open a fully reproducible PDF of this activity…