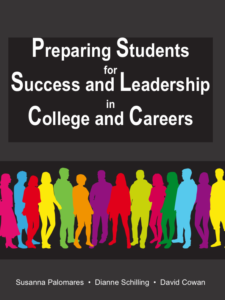 What it Takes
What does it take for young people to be college and career ready? Today's students will need to succeed and lead in a highly competitive global economy, a knowledge-based society and a hyper-connected digital age. It's no longer enough to just be trained in technical skills. Today's workers need interpersonal and relationship skills. They need to know how to communicate and collaborate. In short they must develop a full spectrum of life skills which provides the foundation for success in college, career, at home and in the community.
Here's the Resource
Preparing Students For Success and Leadership in College and Careers provides a comprehensive collection of over 140 effective activities for you to engage your students in the development of the skills employers are looking for and is required for success in college. With this curriculum guide you'll have at your finger tips meaningful activities that help your students to make effective decisions, solve problems, act responsibly, set goals, learn to work as part of a team, and develop effective communication and conversational abilities.   LEARN MORE HERE
By developing these skills in your students now you'll be promoting their college and career success.
A Complimentary Activity
Here is a goal setting activity and reproducible student activity sheet from Preparing Students for Success and Leadership in College and Careers. Use this activity now, and purchase the book to have a whole library of instantly usable activities to engage your students in preparing for their lifetime of success.
You can check the book out

HERE

, and you can open a reproducible PDF of your student experience sheet

HERE

.
If you like our blog resources and would like to receive them regularly, please subscribe here or on our website at www.InnerchoicePublishing.com
Thanks so much for reading!
Susanna
PS: If a friend forwarded this to you, you can just sign up to get your own weekly Innerchoice Counselor Activity Blog.